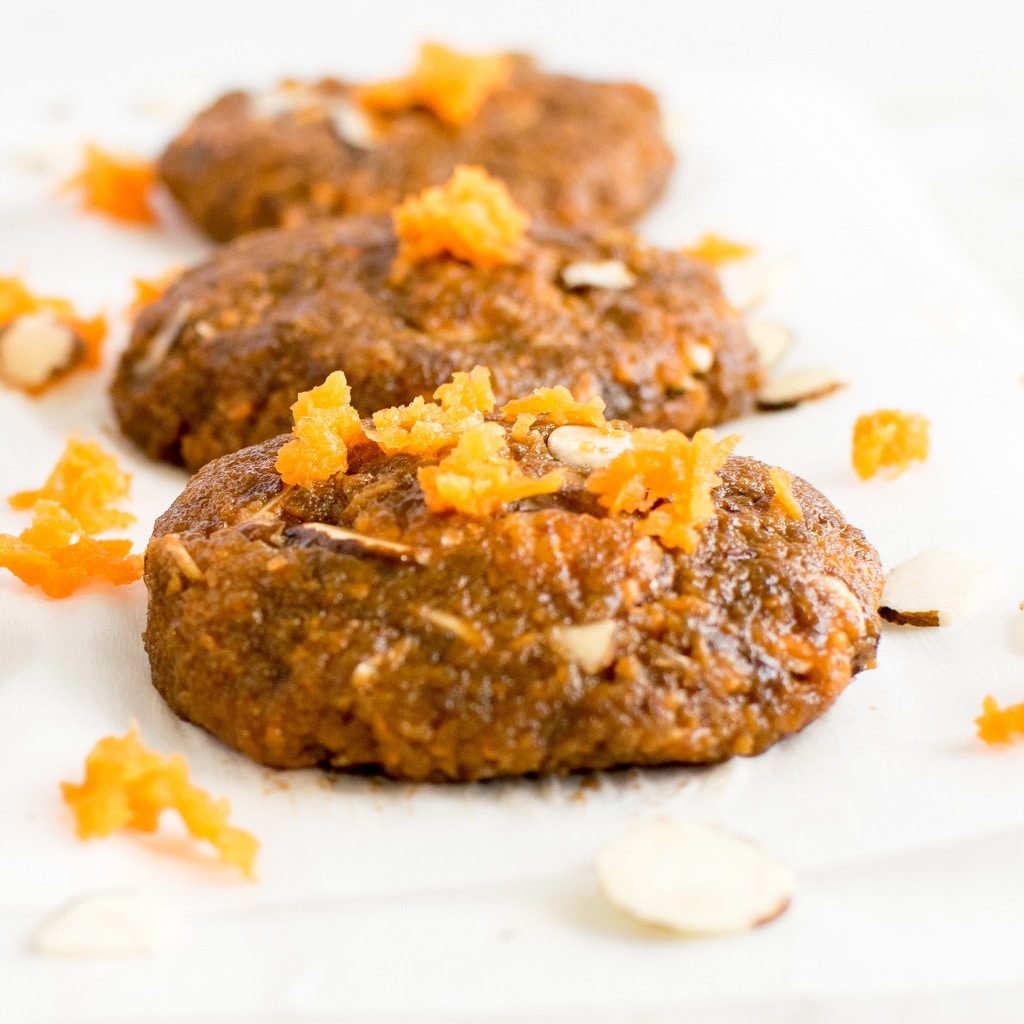 No Bake Flourless Carrot Cookies are a simple sweet treat made with only four easily available ingredients. Quick and easy, naturally sweetened, these cookies get ready within minutes with almost no mess. Since it's getting warmer and we already are avoiding standing near stoves for longer time no bake desserts are all the more desirable. In my house it's the easiest way to satisfy the sweet cravings especially at the odd hours. No Bake Flourless Carrot Cookies serve well as a snack for the evenings. These cookies not only satisfy your dessert craving but also serve as an energy bite when needed.
Most of us may be exercising to get in shape for summer. Many of us have plans to spend time on beach or get involved in other outdoor fun activities. I usually take my daughter to parks because that's her favorite fun time. That is when I need to grab a quick healthy snack for both of us. What can be better than no bake desserts that uplift our spirit and provide us with desired nutrition?
My idea for No Bake Flourless Carrot Cookies evolved at the kid's park. I had limited time and very few ingredients in my fridge as well as in my kitchen pantry. All I could find was raisins, carrots, vanilla powder and almonds. I quickly combined all the ingredients and let it sit in the freezer until we both got ready for the park. I simply grabbed these cookies from the refrigerator and before we reached the park these cookies just vanished while in the car. We enjoyed this dessert snack heartily.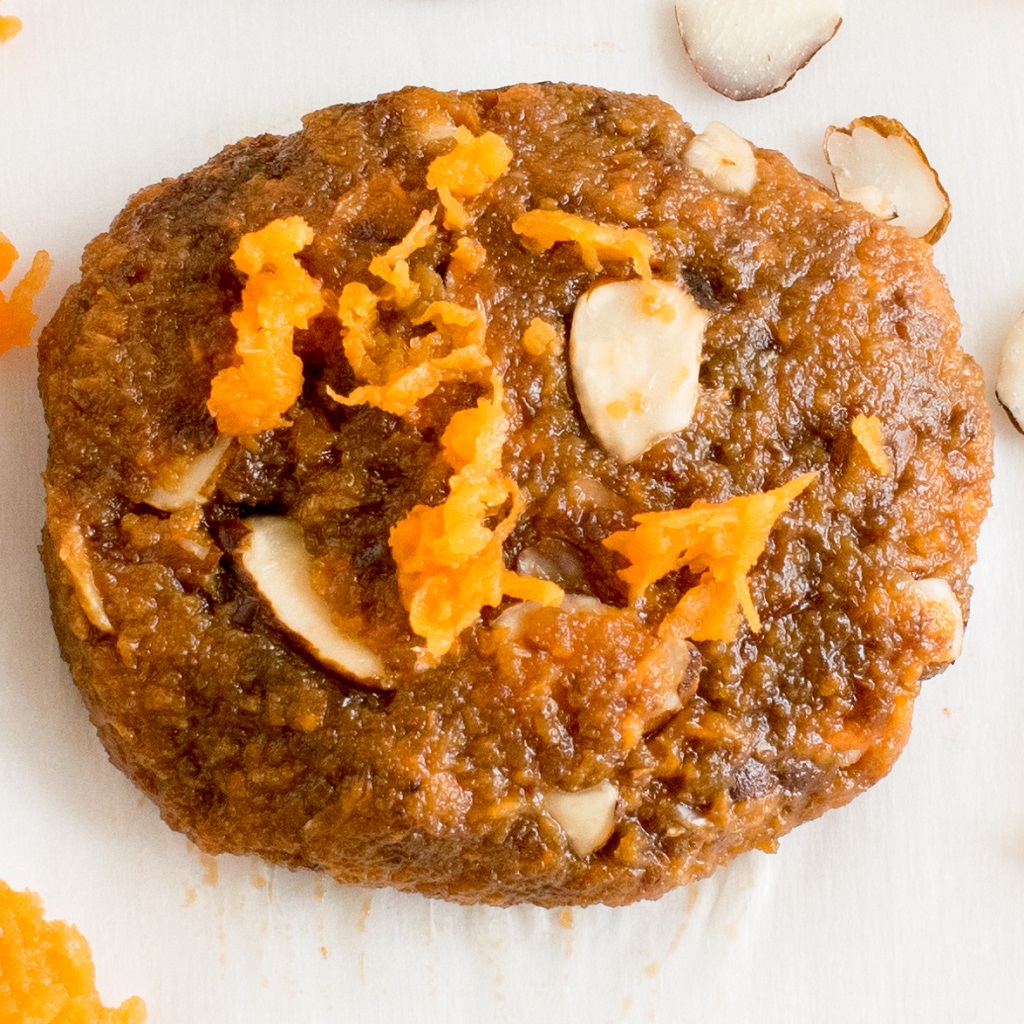 No Bake Flourless Cookies are healthy and nutritious. Just grind raisins, fresh carrots and vanilla in a food processor until dough starts to form. Lastly, fold in slivered almonds and shape the dough into round cookies. Let them set in the freezer for few minutes and enjoy this cold dessert. Since I used fresh carrots they have a tendency to be slight watery and crumble a little. Hence, I would recommend storing them in the refrigerator in an air tight container.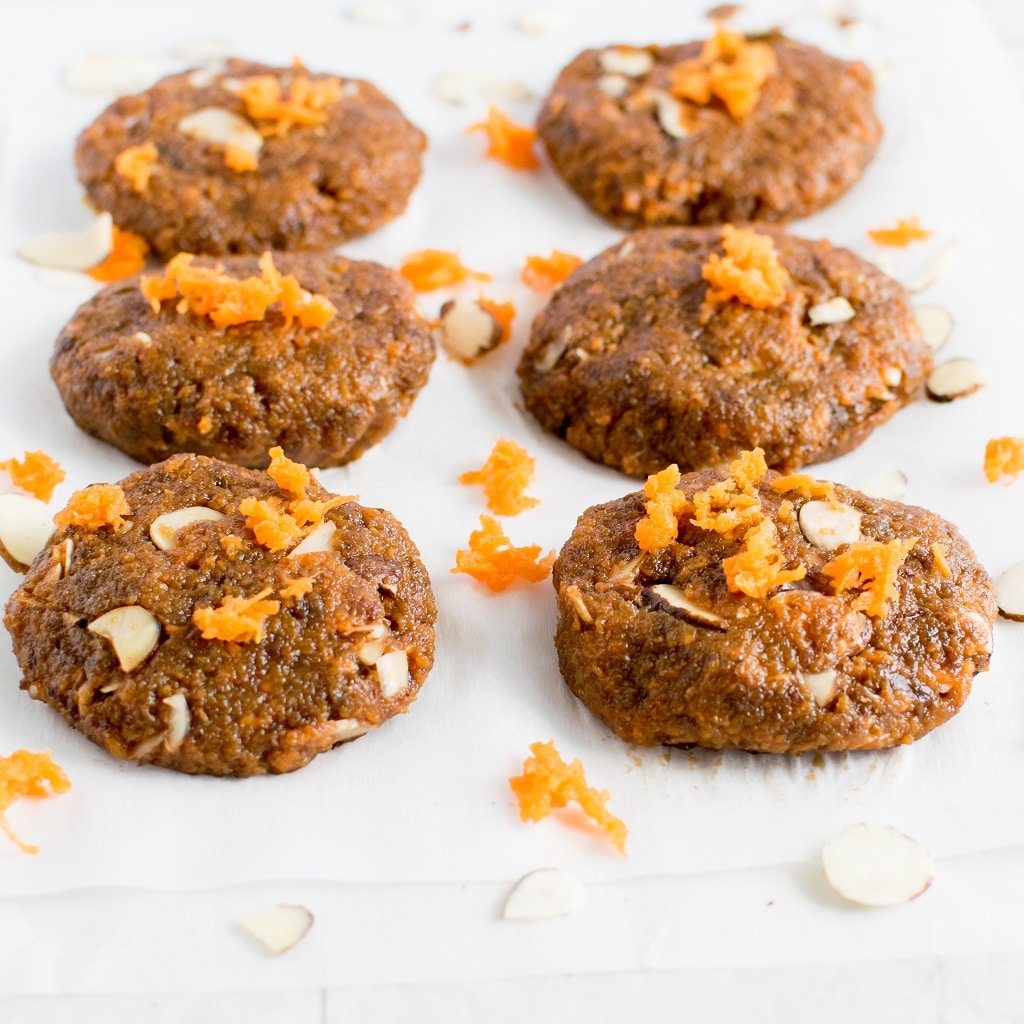 No Bake Flourless Carrot Cookies
Prep Time: 2 minutes
Cook Time: 10 minutes
Total Time: 12 minutes
Per Serving 52 calories
Fat 3 g
Carbs 7 g
Protein 2 g
Ingredients
1 cup raisins
1 cup baby carrots
½ tbsp. pure vanilla extracts powder
¼ cup slivered almonds
Instructions
In a food processor combine all the ingredients (except almonds) and pulse a dough starts to form.
Take it out in a bowl and fold in slivered almonds.
Prepare a cookie sheet with parchment paper. Divide the dough into 6 equal parts and form round cookie shapes between palms. Place the cookies gently on the cookie sheet and freeze it for 10 minutes.
Take it out and enjoy immediately or store in the refrigerator in a glass container.